Farmers with Disabilities
Agricultural work can be mentally and physically demanding, but that doesn't mean that people with disabilities can't enter the field, or have to stop farming after an injury or illness changes their lifestyle. Many people living with disabilities choose to agriculture for their career. Nationwide, approximately 288,000 agricultural workers between the ages of 15 and 79 have a disability that affects their ability to perform one or more essential tasks (McNiel, 2000, Bureau of Labor Statistics, 1999). Assistive technologies, modified production methods, and other techniques can help individuals with disabilities overcome physical and mental challenges so that they can continue working in the field. Check out the video below to learn more about one program that supports farmers with disabilities.
The National AgrAbility Project aims to enhance quality of life for farmers, ranchers, and other agricultural workers with disabilities, so that they, their families, and their communities continue to succeed in rural America. AgrAbility helps persons with disabilities obtain gainful employment in production agriculture; access to appropriate assistive technology needed for work and daily living activities; evidence-based information related to the treatment and rehabilitation of disabling conditions; and provides support for family caregivers of AgrAbility customers.
AgrAbility addresses a wide variety of disabling conditions in agriculture, including, but not limited to:
Arthritis
Spinal cord injuries/paralysis
Back impairments
Amputations
Brain injury
Visual impairments
Hearing impairments
Disabling diseases
Cerebral palsy
Respiratory impairments
Head injury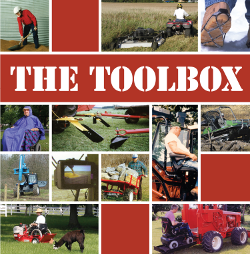 AgrAbility has also assembled a resource called, "The Toolbox." This resource is searchable database for assistive farming technologies, including agricultural tools, equipment, machinery & buildings for farmers and ranchers with physical disabilities. Click the picture to search the database.
The
North Carolina AgrAbility Partnership
(NC AgrAbility) is committed to assisting and educating farmers, ranchers, farmworkers and their family members engaged in production agriculture who are living with disabilities. NC AgrAbility provide assistance, referrals and resources to these individuals who are affected by mental or cognitive disabilities, physical disabilities such as spinal cord injuries or amputations, as well as disabilities related to aging such as Arthritis, to better enable them to continue farming.
Other Resources from AgrAbility